Agave Appraisal, Inc.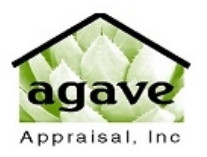 Agave Appraisal, Inc.
7014 E. Golf Links Road #35 Tucson, AZ 85730
Professional Residential Real Property Appraisal and Consulting serving Pima County and the greater Tucson metropolitan community including Green Valley, Sahuarita and Vail. Because you have built your business relationships on excellence and professionalism, you can depend on us. We are a dedicated team of professionals backed with the training and knowledge to inspire confidence in the security of residential real property.