The Maid Connection Inc.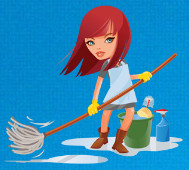 The Maid Connection Inc.
955 W Grant Rd #195 Tucson AZ 85745
| Cleaning Maid Services |
The Maid Connection of Tucson, stands heads above the other residential house cleaning services in town. When you hire The Maid Connection for cleaning services anywhere in Tucson, you can expect the most thorough and professional house cleaning services available. Our philosophy is to treat your home as we would our own, and this is complemented by our years of experience in the industry.