D&D Storage and Moving Company LLC.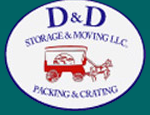 D&D Storage and Moving Company LLC.
969 Ohio Pike, Cincinnati, Ohio 4524
Family owned and operated for more than 40 years, D&D Storage and Moving is the pride of owners Dave and Deb Kroeger. "I've been in the full service moving industry helping families and companies with all their local, state to state and international moving needs for more than 41 years. I started out as a helper and worked my way up in the moving company to become a driver. During those years, I learned that the whole tone of a move is set by the attitude of the drivers. They can make a move either a stress-free and pleasant experience for the customer or they can sour the entire experience for everyone, the customer and the moving company crew. When I became a driver, I made a commitment to always do my best to stay positive, keep my crew positive and to be 110% focused on the needs of the customer everyday.