Barkee Inspection Services, Inc.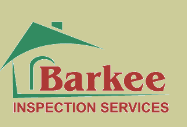 Barkee Inspection Services, Inc.
3504 NW 113th Street Vancouver, WA 98685
We perform a "Health Check" on the home or property, a general check-up of the numerous systems and components. If conditions are found that need further review or repair by a specialist, we will recommend you contact an appropriate expert in that field. We are not unlike a general practitioner, whom you go to for a general physical, and who then refers you to a specialist if health conditions are suspected or diagnosed requiring further evaluation.